About The Process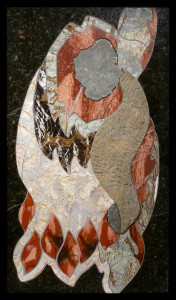 As a geologist I always wanted to piece together stone slabs the way a quilter pieces together fabric. I enjoyed building stained glass panels for several years until I discovered that saws had been developed to cut stone slabs into curves. It was then that I knew I was in rock heaven!
I begin by drawing my abstract designs on paper taking into account the amount of materials I have on hand. After selecting the specific rocks to be used for the design, each slab is cut to fit the pattern. When all of the stone pieces are fitted together their height is adjusted with slivers of wood to create depth. The pieces of stone, crystals, or fossils are then glued to a plywood substrate and grouted, sometimes with several colors of grout to achieve the desired effect.
I combine rare crystals such as amazonite from Ethiopia and apophylite from India with lapidary slabs of rhodonite, sodalite, cuprite, jasper,and fossilized coral, for example, with granite, marble, slate, sandstone, onyx, and limestone. Both humble and rarified stones appeal to me because of their variety of colors and textures.
-Susan Judy, Stone Quilt Design, Colorado